At JJR, our mission is to grow companies by "making it happen" within the context of their world. When it comes to solutions that stir emotions, response, and results, JJR Marketing stands out. Since 2006, we've been serving thought leaders in the B2B space who seek greater brand awareness.
Clutch, a business-to-business (B2B) ratings and reviews firm, recently named JJR Marketing among the leaders of their advertising and marketing research. Clutch's methodology includes a thorough framework with more than a dozen criteria, including qualitative and quantitative measures. Their research includes hundreds of agencies in the digital and creative marketing spaces.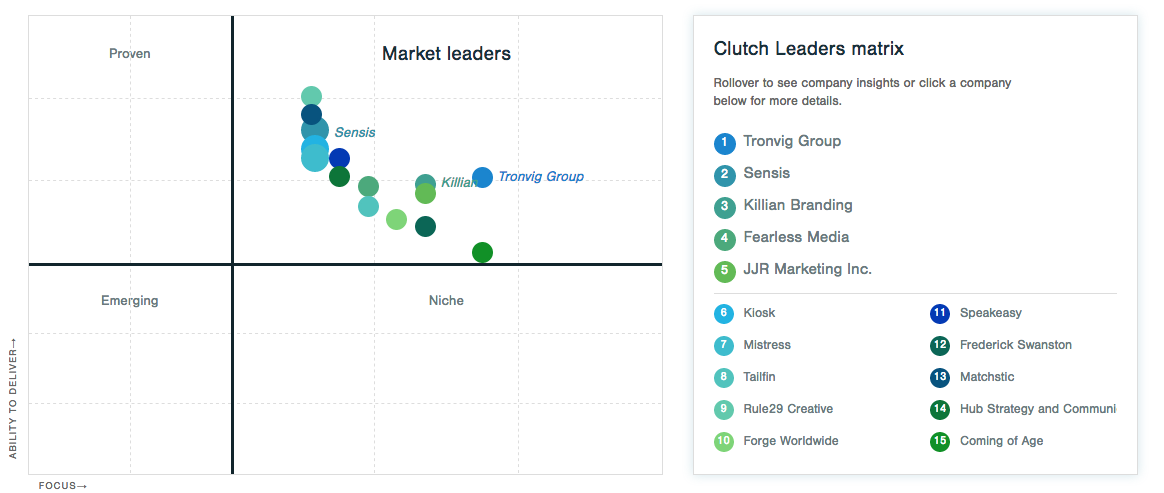 Crucial to Clutch's methodology are in-depth client interviews, in which the Clutch team speaks directly to clients of each agency to gather feedback and evidence of successful campaigns. Already, six of our clients have spoken on our behalf and have given us an overall rating of 4.8 (out of 5).
One of our clients, the president of a large electronic manufacturing firm, said this about our work: "I like the way that they approach things. I think that their success parallels my company's success with our customers. They really sit down and spend a good amount of time to figure out who we are, how we are different, what makes us tick, and then they apply their years of experience and marketing. When we went to JJR, we wanted to increase our presence but we didn't even know what that meant. The guys at JJR were the ones that came back and were able to come up with ways to connect Elan to potential customers. Despite the fact that they are not engineers, JJR could still sit down and really absorb themselves into our world and understand it at a level that allows them to market us effectively. I think they could do the same for just about anybody."
We're especially proud to hear this kind of feedback. Our team remains as focused as ever on understanding our clients' industries and contexts.
Another client, the head of business development at a landscape illumination company, had this to say about our marketing efforts: "Revamping our marketing collateral pieces and creating a consistent look for our brand was huge when it came to setting ourselves up in the right light for our clients and the work we do. The creativity infused into the marketing began to get us noticed and set us apart from our competition. Our tagline, "For those that appreciate the difference" was something JJR helped us to develop and position us well in the marketplace. JJR has pulled together the graphics, metrics, plans, and scheduling of all initiatives and campaigns we do, and although I oversee the marketing, our company relies on the flawless execution of the JJR team."
We appreciate the support and feedback from all of our clients, and we're honored to have been listed among the top advertising and marketing agencies by Clutch.
"This award means a validation and confirmation that we are on the right track as an agency. To know that our innovation and creativity is producing results and that our clients know we have their best interest at hand is the greatest feeling ever." – Jacqueline Camacho-Ruiz
For more information about what our clients have had to say about us so far, please visit our profile on Clutch.